CIRKLA – NEW PLASTIC ACADEMY
CIRKLA is the name of a new Plastic Academy and the starting point for a new cooperation in the Danish plastic industry.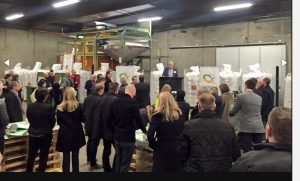 A new cooperation in the Danish Plastic industry and initiated by Aage Vestergaard Larsen, Aalborg University, Planmiljø and the Platic industry invited for an event around the etablishment of a new Plastic Academny. Plastix participated along with 100 others from the industry. With the significant attendance we find there is hope for the future environment, the industry and job creation in the Plastic Industry.
CIRKLA – et nyt Plastakademi og samarbejde i den Danske plastindustri
Aage Vestergaard Lasen og Plastindustrien inviterede til event omkring et nyt Plastakademi og samarbejde på tvær af industrien. Fra Plastix deltog Teknisk udviklingschef Allan V. Rasmussen og input og logistikchef Peter Buhl sammen med 100 andre i eventet, der havde til formål at præsentere det nye plastakademi samt at bringe aktører fra de plastforbrugende virksomheder sammen med repræsentanter fra plastbranchen. Det store fremmøde lover godt for både miljøet, industrien og jobskabelsen
Læs mere her:
https://plast.dk/…/mere-100-personer-deltog-opstarten-nyt…/…