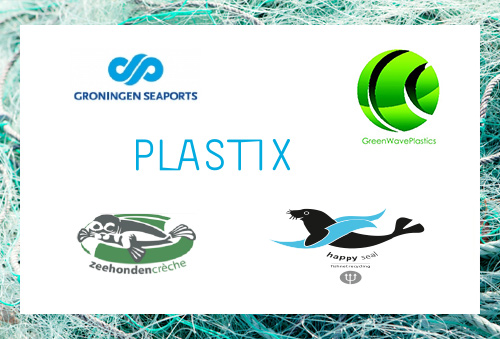 WasteFreeOceans welcomes HAPPY SEALS PROJECT in THE NETHERLANDS
An unique partnership agreement has been reached recently between the European Seal Centre (ZHC Pieterburen), Groningen Seaports, WasteFreeOceans and WFO partners Plastix and GreenWavePlastics.
Based on the experiences gained in close cooperation with Belgian WFO partner SDVO (Foundation for Sustainable Fishery Development) since 2012, the above partners will start to pro-actively collect obsolete fishing gear, starting in the Dutch ports of Lauwersoog, Delfzijl and Eemshaven as off early 2015. Other Dutch ports will be connected to the project during the months to come, following the Belgian example.
Both the European Seal Centre and Groningen Seaports are located in the Waddensea area, an UNESCO World Heritage area covering the sea in the north of The Netherlands, parts of Germany all the way up to Denmark. The area is famous for the seal populations, islands and unique natural reserves attracting a lot of birds, yet unfortunately also still has to deal with several types of pollution and marine litter issues. On a regular basis entangled, wounded and sick seals are being found and brought to the Pieterburen Seal Centre for treatment.
Over the years ZHC Pieterburen collected both obsolete and retrieved ghost nets in close cooperation with a.o. regional fishermen which accumulated into a mountain of some 800 mt of gears. Mid January Plastix will continue collection of this accumulated volume which will be processed in the Lemvig clean tech facility.
Groningen Seaports are recognised on their environmental programs and achievements over the past years and are a leading partner in the EcoPorts (ESPO) network. The project has been formally announced in public to the audience of over 700 people at the Seaports New Years reception.
Plastix is a Danish clean tech company that is transforming used maritime waste into high quality plastic and steel commodities by using innovative recycling technology. The Happy Seal project will be part of the Eco-Innovation reTrawl project which Plastix is leading.
The project partners warmly welcome the support of the fishermen, fishing and other maritime industry and other stakeholders, working jointly towards a Waste Free Waddensea.
The Happy Seals project actually consist of 5 pillars of cooperation and further details on the remaining 3 parts of the program will be communicated in due course as they will involve additional partners.
More information on the Happy Seals project can be obtained: