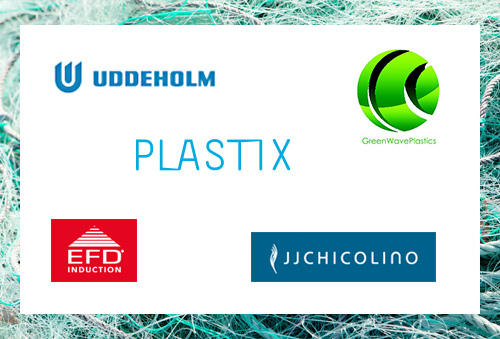 UDDEHOLMS AB (Co-beneficiary), Sweden
UDDEHOLMS AB is a Swedish steel producer, established in 1668. Today the company has 3,000 employees all over the world whereof 900 work in the steel mill in Hagfors, Sweden. UDDEHOLMS AB is the world's leading supplier of tool steel and related services, using both conventional processes as well as electro slag remelting and powder metallurgy. In 2008 the company's products were certified according to the ISO 9001 quality certification. Besides striving to provide costumers with the best possible steel products and services, UDDEHOLMS AB is also concerned about reducing its environmental footprint. The company has developed an environmental policy and has become ISO 14001 certified.
UDDEHOLMS AB is partner in the project due to their role as metal tool manufacture and potential taker of recycled metals from trawl and net entering Plastix's facilities. UDDEHOLMS AB is able to incorporate the recycled metals into the existing production of tool steel. UDDEHOLMS AB plays an important role in the ability of the project to create a closed-loop system where all components of trawl and net are recycled. Further, UDDEHOLMS AB has extensive capacity for laboratory analysis of metal qualities and test of recycled metal qualities. At the Research and Development Centre in Sweden over 40 engineers work in one of Sweden's best laboratories to continuously monitor, improve and innovate the quality of their products.
EFD INDUCTION AS (Co-beneficiary), Norway
EFD specializes in induction heating systems and is Europe's largest supplier of induction solutions for industry with manufacturing plants, workshops and service centres in more than 20 countries worldwide. Since its establishment in 1996, the company has developed the industry's most comprehensive range of induction heating products—from small mobile generators to fully automated, customized in-line systems. EFD offers systems of industrial heat treatment and processing, mobile heat generators, universal heat generators as well as high-output solid-waste welders.
EFD supplies and assists with development and test of induction equipment for this project. With their level of experience and top-of-the-line technology, EFD is the ideal partner when it comes to customizing equipment for plastic recycling.
MERKX Bernard A.J. (Greenwaveplastics) (Co-beneficiary), Netherlands
For 25 years, the owner of the Dutch company Greenwaveplastics has assisted businesses in the international plastic and rubber industry and the fishery industry in improving sustainability and profitability by offering pragmatic and management-based solutions to plastic recycling. Greenwaveplastics is a small consultant firm with an extensive network in the business. With the overall goal of securing waste-free oceans the company also acts as advisor for national and international authorities, trade associations, and other stakeholders on how to improve waste management, clear bottlenecks and enhance the use of recyclables for various applications.
Greenwaveplastics is partner in the project due to their significant knowledge of and experience with the European plastic and fishery industries and the possibilities for plastic recycling. Greenwaveplastics will act as advisor and sparring partner on political and market issues.
J. J. CHICOLINO SL (Co-beneficiary), Spain
JJ Chicolino specializes in innovative solutions for the aquaculture and fishery industries, manufacturing ropes, nets, buoys, floats and consumables. The company is the leader in the production of mussel farming materials in Spain and is a reference in this field all over the world with customers on 5 continents. The company is devoted to reduce the environmental impact of the aquaculture and fishery industries as well as their own production through innovative processes and products and has furthermore been certified according to ISO 14001 and ISO 9001 as well as UNE 166002.
JJ Chicolino is the project's link to the southern European market and will act as a sparring partner on the exploitation of Plastix's market to this part of Europe and is a potential investor in an operational recycling plant in Spain.