Visit by Kenyan delegates from P4G Summit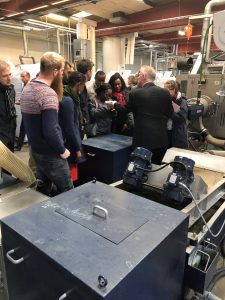 KENYAN delegates from P4G summit visits PLASTIX. See TV2 News clip below (in Danish)
In continuation of the P4G summit in Copenhagen this weekend, we had the Kenyan delegates on a visit to Plastix in Lemvig.
The Danish Environmental Protection Agency cooperates with the Kenyan authorities to create a recycling strategy for plastics in Kenya, and Danish Industry has helped the Kenyan Association of Manufacturers (KAM) in the development of a complete strategy for the plastic sector.
The purpose of the visit was to introduce them to innovative, Danish companies working in recycling and production of plastics to illustrate some examples of partnerships and co-operation between public authorities and the private sector. The visit was arranged by Danish Industry, The Environmental Protection Agency, the Plastic Industry and State of Green.
http://nyheder.tv2.dk/video/amNhcktsaW1hdmVubGlnMjIxMDE4?fbclid=IwAR0bamX9gKROLOiVPCvJhTyWKWdtYP-0-etA4jTtwSCkDRZNHjX1AHSMcN0